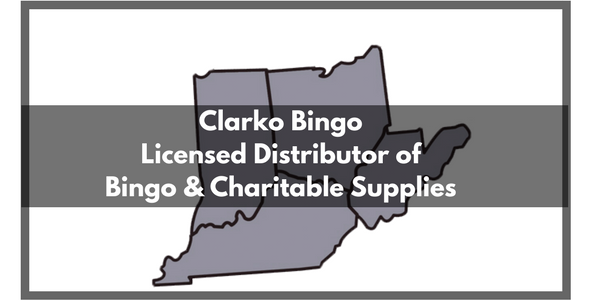 We have been in the fund raising business since 1950 and established Clarko Bingo Company in 1964, are distributors of Bingo Supplies and Fundraising games for Fraternal, Veteran, and Charitable Organizations.
Clarko Bingo Prides Itself on Service, continually being referred to as
"The Company Who Cares"
Clarko Bingo a Licensed Distributor of Bingo & Charitable Supplies currently is selling product in Ohio, Indiana, Kentucky and W. Virginia, abiding by each state's gaming regulations.

LEAD FOLLOW
3 window instant
#MUN J-LF2520
Top 6 @ $200.00
Profit $520.00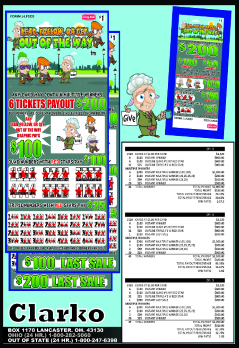 FUMBLING JOE
1 window instant
#MUN J-FB2520
Top 6 @ $200.00
Profit $520.00
BASEBALL JOE
5 window instant
#MUN J-BJ2520
Top 6 @ $200.00
Profit $520.00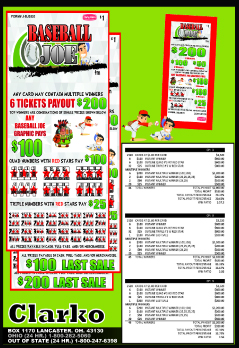 At Clarko Bingo, we offer the largest variety of bingo products in the market today. We feature all manufacturers of bingo tickets, bingo paper, and hi-tech equipment available.

We design custom exclusive tickets and create unique merchandise, cash, and prize deals for every season. Organizations often call on us to customize that "One of a Kind" merchandise package that enables them to grab the competitive edge.

We have full and part time staff at your disposal.

Clarko customers are charitable organizations, including but not limited to:
• Fraternal
• Veteran
• Service Clubs
• Churches
• Schools
• Fire Departments
• Civic
• Humane
• Senior Groups